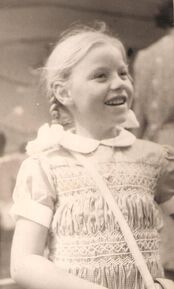 Welcome to the Goddard / Armstrong Family History Wiki!Edit
This wiki has been created for all members of the extended Goddard and Armstrong families to collect, update and share our family history. This page will be an ongoing work in progress and I will be updating the page frequently with information, documents and photographs for all family members to use.
My initial motivation for creating this wiki is to tie in with an assessment I am completing this semester as part of my Web Communications unit, part of my studies at Curtin University. However, I think this is a great opportunity to create an online space that family members can use now and in the future.
This wiki will tie in with the family tree I have created through Ancestry which can be found at http://www.ancestry.com.au - Goddard / Timmins / Armstrong / Dorman Family Tree.
I have also created a family history blog for those that might be interested in our family history as well as more general genealogy information - http://thefamilyhistoryblog.wordpress.com/. The blog has some handy links which you may like to explore. One link is to a Flickr page I have created to upload family photos. I will be adding to this page over time and eventually it will be an online home for all the historical family photographs I have. You will also find a series of genealogy and family history web links that I have added to my Delicious bookmarking page. All these links can be found on the blog.
I hope that you will have fun exploring this wiki and feel free to contribute some of your own stories, photographs or information.
Rachel
Latest activity
Edit
Talk:Neils Peter Lindwall
new comment by A FANDOM user

| | |
| --- | --- |
| Comment: | Maria later was employed as a maid for Oloff Persson and gave birth to a son fathered by Oloff in 1829, they married in 1831 and they had a further 7... |
Community content is available under
CC-BY-SA
unless otherwise noted.